When talking with Silvia Busuioc one can't help but conclude that behind everything she does is a spirit of commitment that comes straight from the heart.

Silvia was born in Moldova, the poorest country in Europe where her first experiences in the performing arts were as a dancer. She then worked with the Radio Moldova presenting programs for youth, dealing the many problems faced by young people in the country. She later went on to study the history of dramatic arts at the University of Milan. Silvia bubbles with infectious enthusiasm over her experience in Milan, her second home, as she does with all her education in the arts. As well as studying theatre and acting, Silvia persevered in the acquisition of a variety of languages so that today she is fluent in Romanian, Russian, Italian, English and German and has an impressive resume with acting roles in all of these languages.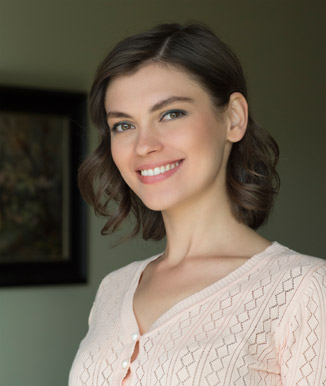 In Milan, Silvia acted in a popular TV series, played the role of the Italian poet Alda Merini in a play, hosted TV shows and, most importantly for her, was cast in the lead role in the Italian play "Animelle! 1 euro per kilo." The play, an indictment of human trafficking, was performed around Europe and, most significantly for Busuioc, it was presented at the National Theater in Bucharest as well at schools and universities in Romania. Silvia says that work on this play, and others dealing with themes of social justice, is amply rewarded by audiences who are both educated and emotionally touched. "The best payment we received for our hard work was always the audience's reaction," Busuioc reveals.

With 10 years of working experience in Italy, Silvia moved to Los Angeles to study as a foreign guest at the Actor's Studio. In 2012, she joined what she describes as a "fantastic community" of artists and began to familiarize herself to American life. Silvia is effusive about her good luck in landing at the Actor's Studio, not just for the excellence of its actor training, but also the supportive attitude of everyone there.




After getting her work permit, Silvia began her professional career in America while maintaining her working connections in Europe. She has agents in England, where she spent a couple of years honing her language, Germany and Italy, as well as in the US and has garnered film roles in Hollywood and abroad.

Silvia expresses her love for travelling and is blessed with many opportunities to meet different people in a variety of countries. She puts it succinctly in her typically enthusiastic style. "Every single project is really neat." Last winter she was in Norway filming The Snowman, (2017) a thriller penned by Jo Nesbo. "It was amazing," she says, "Snow and ice everywhere. Finding myself on set with actors Rebecca Ferguson and Michael Fassbender and director Tomas Alfredson was just incredible."

"Gotthard," she says, "was really liberating in a way. I didn't wear makeup for months while preparing the character. It was fun to wear boy's clothes."

Extending one of her trips to Europe, Silvia took the time to return to Moldova having been absent from her homeland for three years. She specifically says that "seeing people doing everyday things, all having different lives from people in the industry, was inspiring." She goes on that it helped her, "to realize how grateful I should be for all the things I have now." She met with many Moldovan artists and appreciated the challenges they face. "You see that they don't have so many opportunities, yet they still do plays and create art for pure love." Silvia Busuioc clearly has a determination to remain grounded while at the same time enjoying the remarkable experiences afforded to her in the acting profession.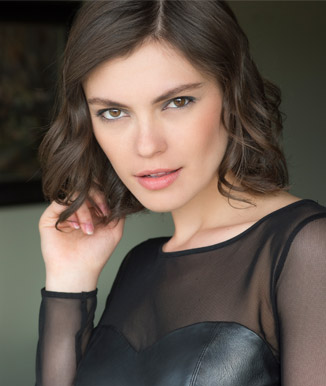 Explaining her upbeat attitude to the performing arts, Silvia says that she believes that, "every project has a message. What is done on a small scale by acting companies in Moldova and Italy can be done in larger scale projects approaching similar topics." She considers herself, "very lucky because all the people I have met in the profession were great human beings."

As anyone in the industry can attest, it's not always a bed of roses for actors. When asked about handling disappointments in acting, Silvia says she relies on the support of her mother and her extensive network of friends. "It's very human to feel doubtful about what you are doing and whether you are doing it in the best way." For much of her success in her life, she credits her mother's advice. "Finally, two years ago, I said, thank you to my mom for encouraging me to study languages."

There's no doubt that the ability to audition for roles in a number of languages and accents has been critical to Silvia's success. When I talked with her she was over-the-top with joy because just that day, episode 1 of the TV series Lethal Weapon was premiering on German TV. She was very excited to hear her German friends' reaction to her work.




Silvia Busuioc's story of how she has carved out a successful and rewarding career in the performing arts is an energizing and uplifting one. She provides a terrific example to struggling actors. Hard work coupled with commitment, a large dose of perspective and a proactive social conscience can be a true recipe for success. Silvia's ability to counter disappointments with sincere gratitude and excitement for every opportunity is a testament to how real balance is achieved.

Alan McNairn, a writer on art and film, spoke with Silvia Busuioc in Spring, 2017.